Are you student/ Graduate/Working professional? Looking out for a top Big data Certifications in Bangalore , then you are in the right place!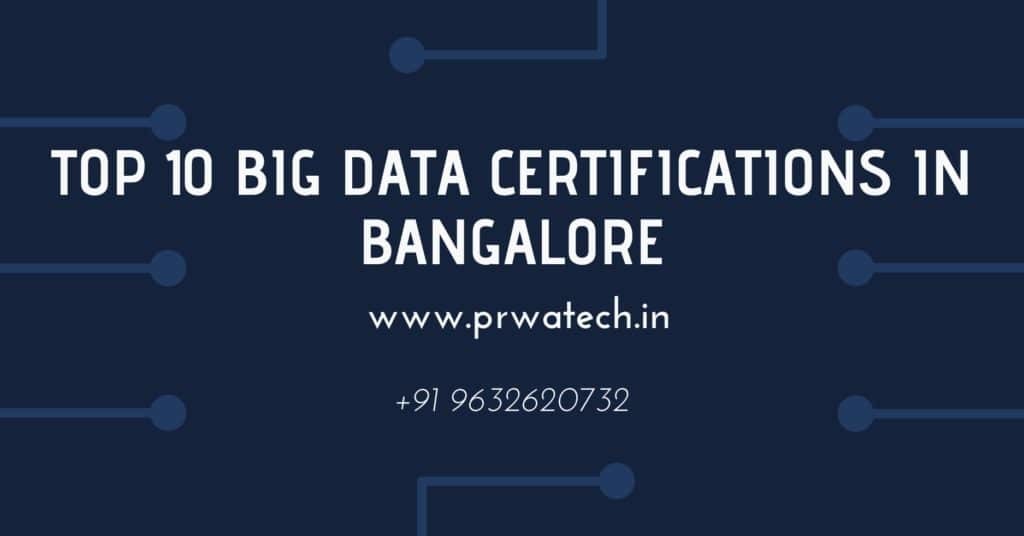 You can access the complete list of top Big data certifications in India by 2019
Top 10 Big data certifications in 2019
Cloudera Certified Professional: The Cloudera certification helps you design and develop data pipelines that will test your skills in data ingestion, storage, and analysis.
Prwatech Big Data Hadoop Certification: Prwatech is offering the Big Data Hadoop certification. PRWATECH assists aspirants and professionals to know more about the different platforms used for Hadoop operations.
Microsoft's MCSE : Data Management and Analytics : Microsoft is used to utilize its own tools. Thus, this MCSE certification will prepare you to be proficient in Microsoft products and solutions.
Hortonworks Hadoop Certification: Hortonworks is offering a reputed Hadoop certification. As we know Hortonworks is a commercial Hadoop vendor offering enterprises the Hadoop tools that can be used to deploy in the enterprise setup.
MongoDB Certified Developer Exam: This is an industry recognized certification that showcases your skills in designing and building applications using MongoDB.
EMC Data Science and Big Data Analytics Certifications: The EMC data science and big data analytics certification is the one for you to get certified in the Hadoop ecosystem including the Pig, Hive, and HBase.
SAS Certified Data Scientist: SAS Certified Data Scientist is the most challenging. It is comprised of five exams and four complete credentials.
Data Science Council of America Certification: The data science of America provides you a certification that is a testimony to your knowledge in big data analysis.
Oracle Business Intelligence Certification: The Oracle Business Intelligence certification is your definitive step into the world of business intelligence and big data.
Massive Data Sets Graduate Certificate: The MMDSG certification is offered in direct collaboration with Stanford University. This is part of the Professional Development program that the reputed university.