Amazon EMR
Amazon Elastic MapReduce, in this Tutorial one, you can learn About Amazon Elastic MapReduce. Are you the one who is looking for the best platform which provides information about Amazon Elastic MapReduce? Or the one who is looking forward to taking the advanced Certification Course from India's Leading AWS Training institute? Then you've landed on the Right Path.
The Below mentioned Tutorial will help to Understand the detailed information about Amazon Elastic MapReduce, so Just Follow All the Tutorials of India's Leading Best AWS Training institute and Be a Pro AWS Developer.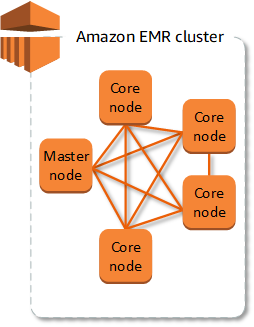 ► Amazon Elastic MapReduce (EMR) is an Amazon Web Services (AWS) tool for Big Data processing and analysis by using a cluster. Amazon EMR provides the expandable low-configuration service as an easier alternative to running in-house cluster computing.
Amazon EMR is a managed cluster platform that simplifies running big data frameworks, such as Apache and Apache Spark, on AWS to process and analyze vast amounts of data. By using these types of frameworks and related open-source projects, such as Apache Hive and Apache Pig, you can process the data for analytics purposes and business intelligence workloads regarding Big Data. Additionally, you can use Amazon EMR to transform and move large amounts of data means 'Big Data' into and out of other AWS data stores and databases, such as Amazon Simple Storage Service (Amazon S3) used for storage and retrieve the data and Amazon DynamoDB it's is a fully managed NoSQL database service that works on key-value pair and other data structure documents provided by Amazon.
If you are not familiar with Amazon EMR, we recommend that you begin by reading the following, in addition to this section:
Amazon EMR: This service page provides the Amazon EMR highlights, product details, and pricing information.
Getting Started: Analyzing Big Data with Amazon EMR: These articles get you started using Amazon EMR quickly.