Amazon Elastic Compute Cloud (EC2)
Amazon Elastic Compute Cloud (EC2), in this Tutorial one, you can learn About Amazon Elastic Compute Cloud (EC2). Are you the one who is looking for the best platform which provides information about Amazon Elastic Compute Cloud (EC2)? Or the one who is looking forward to taking the advanced Certification Course from India's Leading AWS Training institute? Then you've landed on the Right Path.
The Below mentioned Tutorial will help to Understand the detailed information about Amazon Elastic Compute Cloud (EC2), so Just Follow All the Tutorials of India's Leading Best AWS Training institute and Be a Pro AWS Developer.


Elastic Compute Cloud (EC2) is one of the popular services comes under computing domain which is mostly used for security concern and to resize your resources or instances scale up and down running on the cloud that means on Amazon Web Services (AWS) because security is the first priority of the AWS. Let's see what is EC2?
What is EC2?
EC2 is nothing but a web service that belongs to compute domain of AWS, it provides secure and resizable compute capacity in the cloud (developer ease).
Why used EC2?
We used EC2 because of its features stated below:
♦ Scaling: As the name of EC2 means elastic compute cloud it is flexible and supports to scale up and scale down your instances which you create or launch under EC2 depending on demand or requirement of your business.
♦ AWS services Integration: Amazon EC2 is one of the core AWS services and has good integration with other services that AWS provides. You can also use it together with Amazon Simple Storage Service (S3) is a storage system to store, retrieves and manage access objects/Data, Amazon Relational Database Service used to create DB instance on AWS and EC2 provide security to it.
♦ Pay only for what you use: AWS provides a facility to user pay-as-you-go basis means if you use AWS resources here in under EC2 when your instance is in running status for that specific time you will be a charge and when it stopped mode AWS will not charge means that no use = no cost.
AWS also offers a one-year free tier for 750 hours to get hands-on most of the AWS services including Amazon EC2.
♦ Multi A-Z Deployment's: In Multi A-Z Deployment's AWS offers to a user to deploy instances in multiple regions and availability zones. You can launch the instances that you created under EC2 in one or more regions and A-Z's.
♦ Support for Different OS: In AWS, the terminology used for OS (Operating System) is AMI (Amazon Machine Image)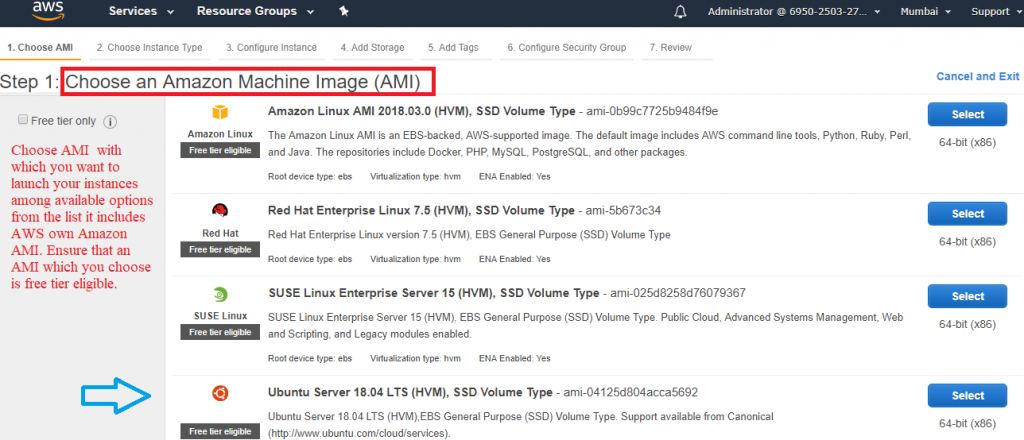 You have a choice of selecting AMI of different types of versions of Windows, Ubuntu, etc. AWS provides flexibility to the user to choose AMI.
♦ Works with Amazon VPC: Amazon works with VPC (virtual private cloud) to provide secure networks to resources which you are using in an EC2 environment.
EC2 Instance Types
♦ General-purpose: Balance of computing, memory and networking resources.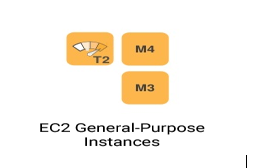 ♦ Compute-optimized instances: Compute-bound applications that benefit from high-performance processors.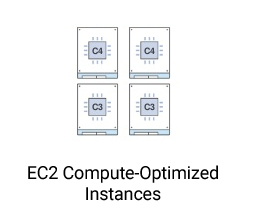 ♦ Memory-Optimized: Designed to deliver fast performance for the workload that processes large data sets in memory.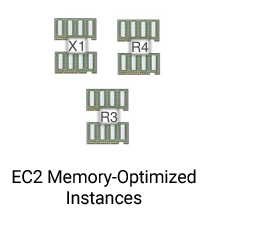 ♦ Storage Optimized: Designed for the workload that requires high, sequential read and writes access to very large data sets on local storage.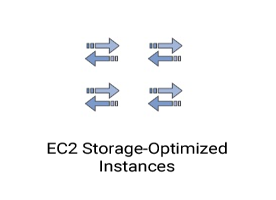 ♦EC2 Accelerated-Computing Instances: EC2's accelerated-computing instances are an exception. They offer access to high-performance GPUs for video-accelerated applications, such as video rendering or certain big data analytics workloads designed to use GPUs for compute operations.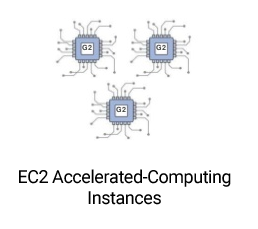 The accelerated-computing type is broken into subtypes of instances. Each subtype is designed for a different class of use cases, ranging from GPU compute workloads to graphics workloads.
Use Cases of EC2
The low costs and the ability to turn features on or off with the click of a button means everyone from web and application developers to researchers and scientists to entertainment and marketing companies are jumping in on the EC2 bandwagon to make the cloud work for them.
Here are some common EC2 use cases stated below:
Hosting environments
One of the foremost uses of EC2 is for hosting a variety of applications, software, and websites on the cloud. Users are even hosting games on the cloud platform means on AWS using EC2, turning the servers on and off when requires. And the best part of this dynamic & scalable environment is that its compute capacity can grow along with the need for the application. This, in turn, ensures the best quality service for all users at all times. Companies like Netflix and Nintendo are proof of the EC2 hosting success.
Development and test environments
The scalable nature of EC2 means that organizations now have the ability to create and deploy large scale testing and development environments with unprecedented ease. The AWS does away with any heavy upfront investments for hardware, all the while providing a scalable solution.
Backup and disaster recovery
Companies are benefit EC2 as a medium for performing disaster recovery for both active and passive environments. The fact that the Amazon Elastic Compute Cloud (EC2) can be turned up quickly in case of an emergency, means that businesses have access to a faster failover it supports fault-tolerant with minimal downtime for their applications.
Banking and financial sector
These are areas that demand the utmost in security and scalability — both are factors that Amazon EC2 provides in droves. Financial institutions trust the AWS to provide a range of highly secure services to their customers. Retail and commercial banks, credit unions, insurance providers, card service companies, and major payment platforms depend on AWS for their scalable cloud computing needs. EC2 provides efficient solutions for financial giants like Capital One, BBVA, UniCredit, and Pacific Life.
Marketing and advertisement
Low pricing and rapid provisioning capabilities that Amazon EC2 allows have resulted in the platform increasingly being used to host marketing and advertising environments on the fly.
High-performance computing
The need for HPC is exponentially on the rise, and EC2 provides specialized virtualized servers that provide both high-performance networking and compute power. These can be used to perform a range of CPU intensive and number crunching jobs, including Big Data analytics and processing. NASA uses Amazon EC2 for JPL, and Pfizer is another organization that employs the use of HPC using EC2 instances.
Pricing
There are four ways to pay for Amazon EC2 instances: On-Demand, Reserved Instances, and Spot Instances. You can also pay for Dedicated Hosts which provide you with EC2 instance capacity on physical servers dedicated to your consumption.
Free Tier: Resizable compute capacity in the cloud.
750 hours per month of Linux, RHEL or SLES t2.micro instance usage
750 hours per month of Windows t2.micro instance usage.
Conclusion
EC2 can handle any type of workload you want to host, whether it's a traditional Web application, a high-performance database, a custom data analytics tool or virtually anything else there's an EC2 instance to support it. Finding the best EC2 instance for your needs is as simple as understanding the different categories of EC2 instances, then identifying which special features, such as burstable performance or solid-state storage, you might want.
How to Access an Amazon EC2?
If you've already signed up for Amazon Web Services (AWS), you can start using Amazon EC2 by using Amazon Management Console.
First login in your AWS account and click on services, see for EC2 in the dashboard, click on it after it you will be redirected on EC2 web service then, follow the steps to launch an Amazon EC2 instance.
# Last but not least, always asks for help!